The Brand
Because contemporary fairytales are weaved in timeless wardrobes and one's very own definition of beauty.
Here fashion expresses itself using words of lace and organza, punctuated with the subtlest of detailing. Each Sandy Nour piece intertwines threads of refined sensuality and sophisticated yet intelligent design, its story told as a an ode to dreams and romance.
The Sandy Nour experience invites you to immerse yourself in a world of statement looks all the while enjoying complimentary personalized service and adjustments for an ideal fit and style.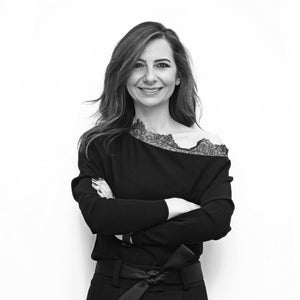 Sandy Nour
The Designer
This story begins more in the mid 2000s with Sandy Nour launching her atelier and sample room in Beirut, Lebanon after obtaining her MA in fashion design from Milan's renowned Istituto Marangoni School of Fashion, Design and Art. Encouraged by the success of this first venture, she expanded into the conception and production of evening and bridal collections for other brands, made available in more than 230 stockists. At the time, the fashion house headed by Sandy Nour was a creative hub bustling with the energy of more than fifty talents. Her eveningwear and bridal collections were earning international accolades, being highly sought after at major multi-brand boutiques and retailers around Italy, Spain, France, UK, Bahrain, Kuwait, UAE, KSA, Azerbaijan, Brazil, and the US.
In 2017, Sandy Nour decided to start a new chapter and launched her namesake lines of bridal and eveningwear. Since then, her atelier has transformed into an intimate space that is dedicated to personalization and a tailormade experience.